Moving
Move Your Way!
You know you need physical activity to stay healthy and prevent chronic diseases like heart disease, diabetes, and some cancers. But maybe you just don't like exercising, you never seem to find the time, or when you do manage to squeeze in a few minutes you wonder "is it really helping anything at all?"
Good news! It DOES help and we're challenging you to make time for it!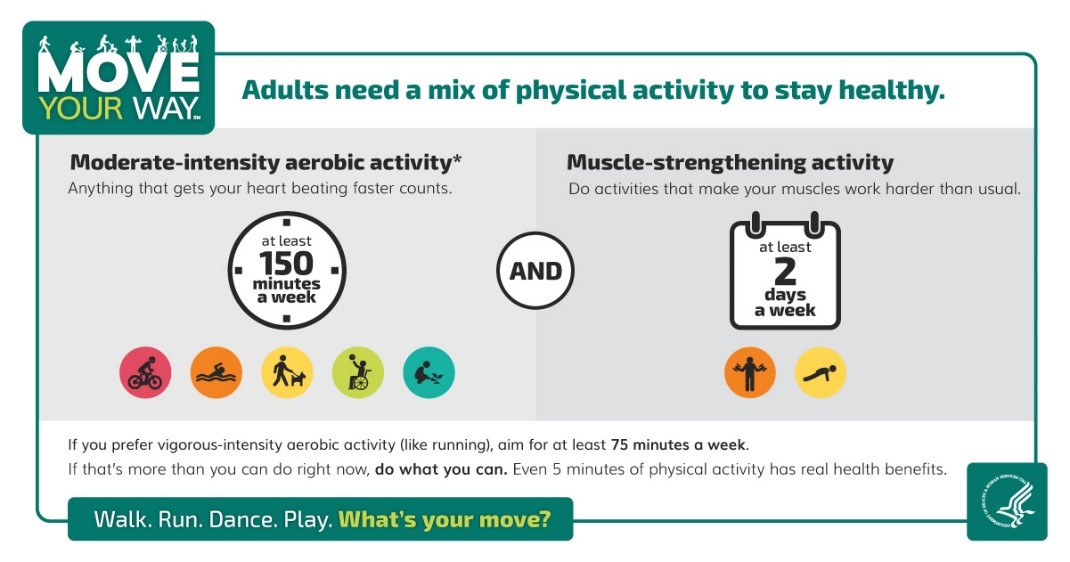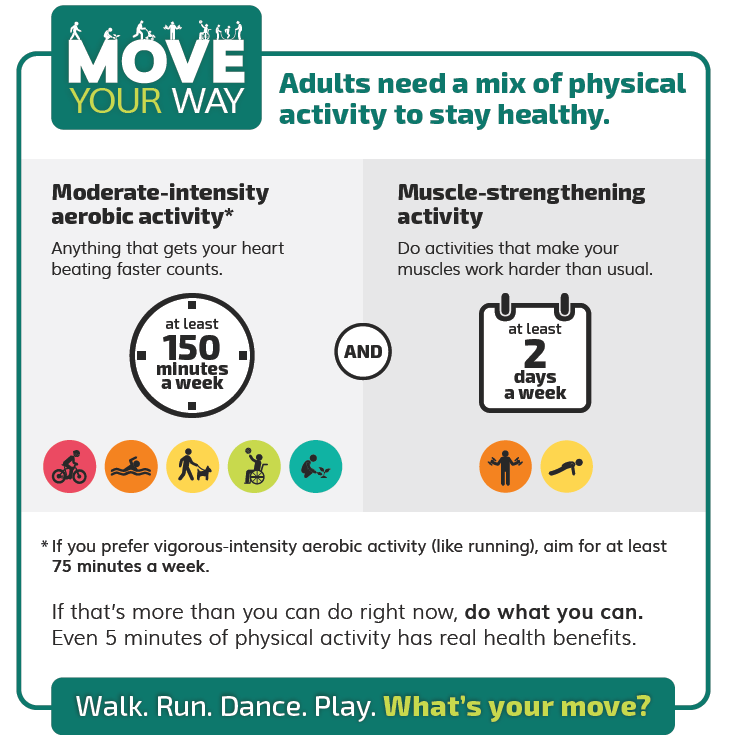 What are the benefits?
New evidence from the second edition of the Physical Activity Guidelines for Americans shows that physical activity has immediate health benefits like:
reducing anxiety and blood pressure
improving quality of sleep
improving insulin sensitivity
Physical activity can also help manage more existing health conditions like:
decrease pain for those with osteoarthritis
reduce disease progression for hypertension and type 2 diabetes
reduce symptoms of anxiety and depression
improve cognition for those with dementia, multiple sclerosis, ADHD, and Parkinson's disease
How much activity do adults need?
As a general goal, aim for at least 30 minutes of moderate physical activity every day(or 150 minutes a week). However, any amount of physical activity has proven health benefits. The main goal is to move more and sit less throughout the day.
What's the difference in moderate vs. vigorous?
Try the talk test while being active. Typically, if you're breathing hard but can still have a conversation easily, it would be considered moderate-intensity activity. If you can only say a few words before you have to take a breath, it's vigorous-intensity activity.
Are you ready to get started?
If you're new to exercise, start small and gradually build up to 150 minutes. Already getting 150 minutes a week? Consider pushing yourself to get at least 300 minutes of moderate-intensity activity (or 150 minutes of vigorous-intensity activity)for additional health benefits.
Don't forget to include muscle-strengthening activities at least two days a week.
Check out our resources on the website - Exercise Routines | Strength training, stability, and stretching routines (uada.edu)
Use this interactive tool to build a weekly activity plan or join the UADA Living Well Challenge and get the support and accountability you need to be successful!